Penchant for colours – as new energizer.
Deep, rich shades. Dark, earthy and warm.
Brightly flashing, vibrant billows of hues
in between. Pure Power from cloth.
Double Identity.
Finely encased from both sides:
Night and Moor.
Nothing warms "cooler".
Ultra-spicy in Dijon.
With true-to-life sheen –
Adieu tristesse!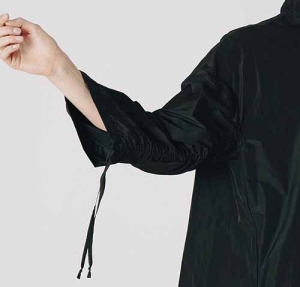 Urbane flirt with ties that bind.
In a look for superheroines.
Moor in supersize.
Black is back.
Tribute to long winter nights.
Modern match: merino with taffeta.
Mega must-have:
Roll neck for ever and ever…
Mille-feuille magic.
Gossamer like pastry dough,
extra-intense in dark Moor.
Evergreen Snow White.
In pure silhouette.
Shimmering Taupe radiates light.
Skin colour elegance.
Dress code: Loungewear.
Feminine and cuddly.
Extra-fine merino, slightly milled
with open edgings, lovely.
From poncho to "It piece".
Cool sports chic.
Heaven!
Mood brightener in Sky Blue.
Soft as a cloud and airy light.
Cornflower Power.
Blue-blooded to the last detail.
In colour-mix with Caramello,
even reversible.
Caramello Charming.
Like frosting for any outfit.
Be sweet.
Soft opening.
Night coat for compliments:
soft, light, warm, wonderful.
Moor in fashion.
Gentlewoman lifts off.
From sofa to the front row.
Big is chic.
Cloaked in a Grape
that makes grapes jealous.
Sophisticated Styling.
Subtle shades in make-up look.
Blush now!
Point of View:
All cats are black at night.
A dress in Night?
So Hot.
Pink shoots for the stars.
No Rx needed to beat winter blues.
Color Clash.
Pink melds with caramel
and flashes as Pinkymello.
Dress Up.
Pearl is the new silver.
Coolture Colour.
Good-Looking Woman.
Reveals her true stripes
groomed in Cosmo-Chic.