Designed in Hamburg. Made in Europe.
To wear in the world
with sensuous lightness.
On film as in the adventure called life.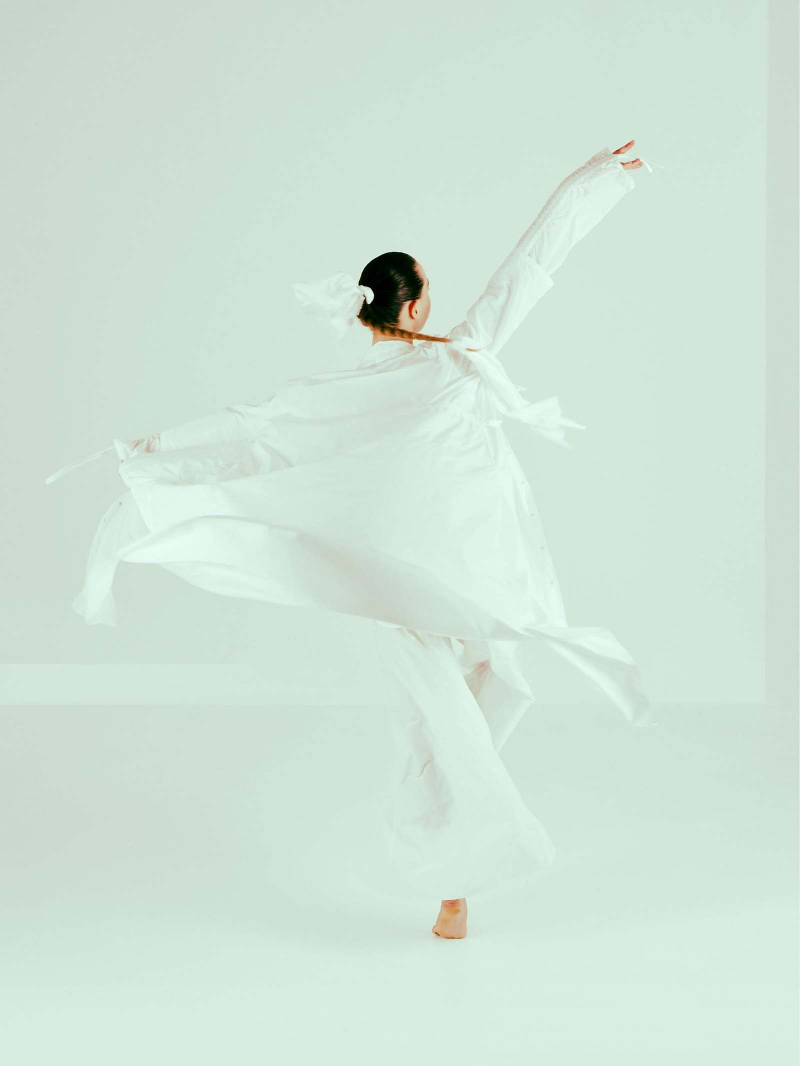 KATHARINA HOVMAN fashion is puristic, unconventional, bracingly lightweight and inspiring. A combination of feminine extravagance and understatement: Easy-going styling for breathtaking occasions, just as much as for every single irretrievable day. Highest-grade fabrics and materials displaying first-rate craftsmanship are characteristic for her clear-cut style. This signature lends the KATHARINA HOVMAN brand a reputation for the highest quality and value that extends far beyond any given season.
KATHARINA HOVMAN, founded in 1992 in Hamburg, starts off by presenting a summer collection. Over the following years the label is shown at fashion shows in Berlin, Paris, Milan, New York and Düsseldorf, consequently establishing itself on the international market.
In the summer of 2008, Katharina Hovman opens her flagship store in Hamburg.
Today she sources selected shops and department stores in over 15 countries.
Designed in Hamburg:
KATHARINA HOVMAN
at her studio in Hamburg
KATHARINA HOVMAN designs exclusive fashion that aspires to be inclusive. And not just since the spirit of the times says that's chic!

Katharina Hovman wears her heart on the tip of her tongue. For instance, she recently dropped by the flagship store for her eponymous label in Hamburg's Eppendorf quarter and ran into a customer there. The woman told her that she prefers wearing Katharina's blouses on festive occasions. Which truly went against the grain of the designer's intention: "You've got to wear my blouses day in, day out," she announced with oomph behind it. "They're too expensive for some special then and when, absolutely suitable for everyday wear and not finicky fragile at all."

While visiting her Hamburg studio it becomes clear that Katharina Hovman designs more than just clothing. Her name stands for a concept that she guides personally down to the last detail. Each new roll of fabric lands on her table first. Not just any fabric - Taffetas calls the material: a special, high-grade microfibre taffeta, easy to care for and durable. After washing it dries in the air in a jiffy – ironing is forbidden! "Does the colour do what it promises?" If the boss has doubts, seamstresses promptly sew a sample item right then and there. Nuances are decisive. Everything builds to interconnect: "It has to be at least as good as it was in the preceding season and point the way ahead at the same time."

Loyal allies are what's needed for this kind of venture. Not only in terms of staff and suppliers – it's true for the products, too. At first glance, let's focus above all on the no-frills Blouses – the TAFFETAS. They're the core element of the brand. As for details like collars or cuffs, they constantly appear in new variations to match the seasons. Grouped around them is an eye-pleasing collection of pants, coats, dresses and pullovers – all of them easy-going, with an underlying finesse. The art of Katharina Hovman equally lies in the use of monochrome hues. Black, white and dark blue are as good as standard: with all other colours the designer relies on empirical knowledge and intuition. She's a master of variations on muddygreen and jazzy orange, too. What's more, she is her own and best brand ambassador. For many of her clientele, the way she combines the clothing she wears – and not just for "a special then and when" – is a form of inspiration: "As feedback I often hear: 'Now I'm going to do that just like you do.' " She employs blouses as a targeted accent. Sometimes they pep up jeans, other times they take a back seat and set the scene for an eye-catching designer piece. In Katharina Hovman's opinion, her success bases on the fact that her designs harmonise so well with many major designer brands, too. They don't compete for attention in the eye of the beholder, yet they're anything but neutral. Meanwhile she takes pride in the wide-ranging options to adapt that her designs offer. And a store all her own for a "panoramic vision towards fashion."

Katharina Hovman designs more inclusively: short, tall, skinny, pleasantly plump bodies – she gives recommendations in her online shop as to which of her blouses fit best on which body shape. With her, sizes 34 to 46 are standard, sometimes even above and beyond them. The styles are not simply enlarged to scale, they're adapted to meet the special needs of varying silhouettes. Her fashion is supposed to be "not too encasing. It always comes down to the person feeling good in it." Customers are grateful that she is so attentive: the conceptual side is intricate, an effort that these days hardly anyone makes anymore.

Her store in Hamburg has become a kind of pilgrimage site for fans, primarily from Germany and Switzerland, who want to treat themselves to the whole brand experience. The blouses, yes, of course, but the same goes for the unassuming pants or the lightweight down jackets that no longer requires compartments.

Her temerity to fill a gap, one that has evolved over the years into a sizeable niche, stems to a degree from her youth, so the designer says. Born and raised in the Hanseatic city of Hamburg, her parents were drawn away from Germany during the 1970s. The family spent two years in Brazil. From there they drove their VW bus all the way to North America. "Non-stop adventure" is a feeling that lingers on in the designer to this day. The colours of Brazil left behind a lasting impression, too. As she puts it, the experiences from back then made their mark on her.
Afterwards, those same events quasi "shaped" her when she studied fashion. As for the inevitable unpredictability that she too has faced in the course of a creative career, she was able to handle them well. An unconventional approach that matures to become strength is her specialty. The same could be said for the material in her TAFFETA-blouses: The attributes of this special micro-taffeta are unique. The woman wearing it can style the piece of clothing according to her taste: fold back a cuff, gather up a sleeve or turn up the collar. Misgivings as to the material's sustainability? "It's the Rolls-Royce among polyester taffetas," says Katharina Hovman. A small, "secret" manufacturing facility near Lake Como produces the light-as-a-feather fabric woven in such a way that it's breathable "like silk." Yet it's easy washable. All the other components of her collection are equally produced exclusively in Europe. And the term sustainability has many aspects.

She had once asked her customers to send worn blouses back to her so that the fabric could be recycled. That presented a problem: not one was sent. "They last an eternity. The customers wear them for years and then pass them on or they go to a boutique for vintage clothes." When designing fashion, it's not just the overall look that counts. Who knows that better than KATHARINA HOVMAN.
Published in the fashion and lifestyle magazine ICON – by Heike Blümner.
KATHARINA HOVMAN
Master of Variation